Minnesota Issues COVID-19 "Stay At Home" Order, Continues Public Place Closures, and Imposes Distance Learning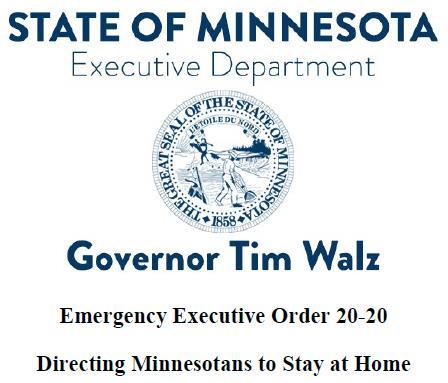 Governor Walz Issues Stay At Home Order, Continues Public Place Closures and Mandates Distance Learning
Minnesotans ordered to stay home for two weeks.

Based on modeling statistics specific to Minnesota and compiled by the State and its partners, Governor Walz reported that sheltering in place will not reduce the COVID-19 infection rate, but it will delay it. Governor Walz explained that delaying the infection is crucial to allow the state to build up critical resources, including ICU capacity, testing capabilities, ventilators and PPE (e.g., masks and protective wear), and temporary hospitals, and to determine who may need to be sheltered at home for a longer period of time.

Based on the modeling scenarios, Governor Walz announced a "Significant Mitigation" strategy to delay the infection rate. This strategy includes the following:
Stay At Home (EO 20-20)

Effective Dates

:

March 27, 2020, at 11:59 p.m. through April 10, 2020.
Stay At Home: All Minnesotans are ordered to stay at home. The Order does not restrict virtual work or teleworking (work from home).
Exemptions:

Exempted Activities. Exemptions include health and safety activities, obtaining necessary supplies and services, outdoor activities, essential travel, and care for others. Residents are permitted to go to the grocery store, liquor store, and obtain gasoline and supplies to work from home, among other critical activities. Social distancing is to be observed.
Exempted Workers. Workers in "Critical Sectors" are excluded Critical Sectors include health care, law enforcement, food/agriculture, energy, water and wastewater, transportation, public works, communications, critical manufacturing, hazardous materials, certain financial services, certain state employees, federal employees, faith leaders, child care providers, animal shelters and veterinarians, public and private educators, and essential legal services. The exemptions apply only to the extent the work cannot be accomplished at home through teleworking or virtual working.
Following the expiration of the Stay At Home Order, the Governor will direct an additional 3 weeks of physical distancing, and thereafter physical distancing for our vulnerable population. The goal, the Governor explained, is to extend the infection peak by about 5 weeks.

Schools Enter Distance Learning Period (EO 20-19)

The Distance Learning Period begins on March 30 and extends through May 4, 2020.
The Distance Learning Period may be counted for the number of instructional days originally scheduled.
Staff are to report to their school buildings on May 1, 2020, to plan for students' return to school buildings.
Please contact us to learn more about how these Executive Orders may affect you.